Ever since the whole T
why
light epidemic, I have been very weary of anything resembling new age vampire lore. I pretty much grew up reading Anne Rice, but don't get me started on what I think about her nowadays, who had a certain degree of sophistication to her shamelessly oversexed novels filled with a beautiful darkness and countless kinds of supernatural beings. They were intoxicating, even as someone who was much too young to truly understand most of what was going on in them, I couldn't get enough of it. I'd read them late into the night, turning off my bedside lamp as I heard my father's footsteps getting nearer to my door and then on as they faded down the hallway. It was almost like a sin, as my Bible beating sister would vehemently point out, but that made it even more appealing.
When the Twi-hards began to infiltrate my circle of friends, I was given my first exposure to this strange new wave of vampire culture. I tried to be open minded about it, really, I did. Sure, the vampire (although much more appealing as Cederic Diggory) was pretty hot. Yes, the setting was miraculously gorgeous and haunting at the same time. But its just too much for me to accept this recent idea of the twinkling undead. Seriously? Their fear of the sun isn't because it will make them burst into flame and enter the finality of death, but that it will make them...sparkle? However, I could even deal with the shimmering over Bella's dull as dirt character. She can never accomplish anything on her own, is somewhat of an attention whore, and her biggest choice (which they drag out for four god damned books) is between two lovers...in high school. Whats even more disturbing is that if Kristen Stewart's portayal of her is anything like how she is written, she is also neurotic as hell with some sort of almost-spastic disorder.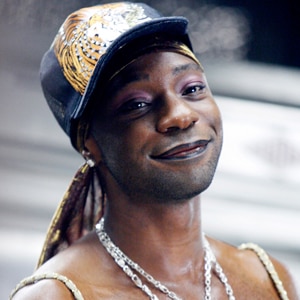 So when I heard about the show True Blood, I was quite jaded. I had no interest in watching it and couldn't believe others would either. I did some serious shit talking when it first came out after watching the first episode at the behest of my best friends. I was like, I'm good on some soft vampire porn, but thanks. Then for some reason, a few weeks ago, I decided I needed to give it another shot. After I got past the first episode, which sucked even more the second time around, they started to improve or in the very least, hypnotize me. Man, do they know how to set up a cliff hanger. I would be sitting on the couch with wide eyes, actually leaning in until I about fell out of my seat at the end of the episodes.
At first I was mostly watching for the hilarity of all of these people and their attempts at southern accents, with dialects from all over the South at first, but they are channeling more Louisiana as the seasons go on and they get better at it. Then, with characters like the the flamboyant force of a man Lafayette and Eric, the viking of my dreams, I started to get sucked in. One thing that didn't change was the lead character being an unusually unintelligent person.
Sookie has her moments of clarity, but for the most part, she is a few fries short of a happy meal. She might be dumb, but at least somewhat loveable, which makes her the winner in the Court of Maegan for the case of Sookie v. Bella. Aside from the accent issue, they do an amazing job of portraying what the rural South is like, the good and the extremely bad, and I appreciate that.
Once I had watched seasons one and two within a few days, I had to admit something. I went to my friends, tail between legs, and ashamedly confessed my new obsession. Obviously, they were cool about it and accepted my apology for being a nay-sayer. For a long time I couldn't really explain what it was that really pulled me in about this show. Then today, while reading
a post at Loose Leaf Writing
, it suddenly came to me. This kind of trash tv fills the same nook as a romance novel would. Like junk food, it contains no real function or nutritional value, its all about instant feeling. Romanticized without abandon, often times cheesy, and intensely sexual - I guess this series has just become my digital harlequin.